Tele2 Sweden supplies dark fibre for new Sunet network
The public procurement for the new Sunet network is done. The deal means Tele2 will build the dark fiber infrastructure for data communications to all Swedish universities, colleges and other Sunet affiliated organizations. The full Sunet network is to be upgraded, and a contract that runs until 2031 is now signed. The deal is worth around 30 million Euros.
- We are very proud to have gained Sunet's confidence in such an important network project. We have a common history, and we are now looking forward to jointly build the next generation fiber network for the Swedish academic world, says Thomas Ekman, CEO of Tele2 Sweden.
This deal means the closing of a circle – through a very important cornerstone of Swedish internet history. In the very beginning of the 90's Jan Stenbeck took over the commercial Internet users from Sunet. This agreement was made with Comvik Skyport, a company that later would change names to Tele2. The product of the deal was a new company called Swipnet, which became Sweden's first commercial ISP when the business started 1 January 1991.
Sunet's existing network OptoSUNET was commissioned in 2006. The new agreement means that Tele2 will deliver optical fiber connections to Sunet upgrading its nationwide network between all the country's universities, colleges and other institutions, such as cultural institutions, who will be connected on the Sunet network.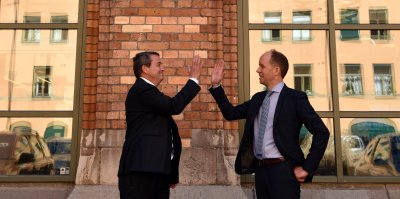 - The Sunet network is an incredibly important infrastructure for Sweden's universities and colleges. Our new network will have a capacity of 100 Gbps and a different design and topology than today for enhanced redundancy. The winning solution from Tele2 was the bid that in combination with the best price could best deliver a flexible solution for the entire country that met our high standards, says Stefan Bengtsson, president of the Sunet Board and Vice-Chancellor of Malmö University - from August 2015 Vice-Chancellor of Chalmers University of Technology in Gothenburg.
Sunet's current provider agreement expires in December 2016 which is the reason for the procurement of a new dark fiber network. The new network contains two parts - the fiber optic network and network equipment. The deal with Tele2 covers the delivery of fiber infrastructure. Network equipment has evolved over the ten years that have passed, and Sunet will now implement improvements in both equipment and design of the network itself.
Sunet will continuously report on the building of the new network - watch out for more info on sunet.se